Fall 2022 (Volume 32, Number 3)
2022 CIORA Grant Award Recipients
By Janet Pope, MD, MPH, FRCPC
The Canadian Rheumatology Association (CRA) is pleased to announce that its granting division, the Canadian Initiative for Outcomes in Rheumatology cAre (CIORA), will be funding 4 two-year grants and 1 one-year grant for a total of $485,626 CDN to projects that will enhance access and innovation for rheumatology care. Additionally, the CRA will set aside $60,000 to fund the CRA (CIORA) Arthritis Society Clinician Investigator Award in 2023 (more details to follow).
Over the last 15 years, CIORA has funded 114 projects and provided almost $8.5M CDN in research funding since 2006.
CIORA's grant program supports sustainable projects related to:
Academic clinical research initiatives related to all rheumatic diseases
Clinical research initiatives for community rheumatologists related to all rheumatic diseases
Principal Investigator(s)
Title
Award
Vinet, E.
Personalized therapy in lupus pregnancies.
$114,000
Boire, G.
Beausejour, M.
Feldman, D.
Assessing the timeliness of referrals in rheumatology for chronic inflammatory arthritis from a centralized referral system.
$111,074
Abikhzer, G.
Digital FDG PET/CT versus temporal artery biopsy and ultrasound for first-line diagnostic imaging of giant cell arteritis.
$109,326
Barber, C.
Development and pilot of a shared-care model for rheumatoid arthritis leveraging an "on-demand" follow-up strategy.
$109,796
Gottheil, S.
Reducing urgent care wait times in community rheumatology: A quality improvement project.
$41,430
A listing of all current and previous recipients is available at rheum.ca/ciora.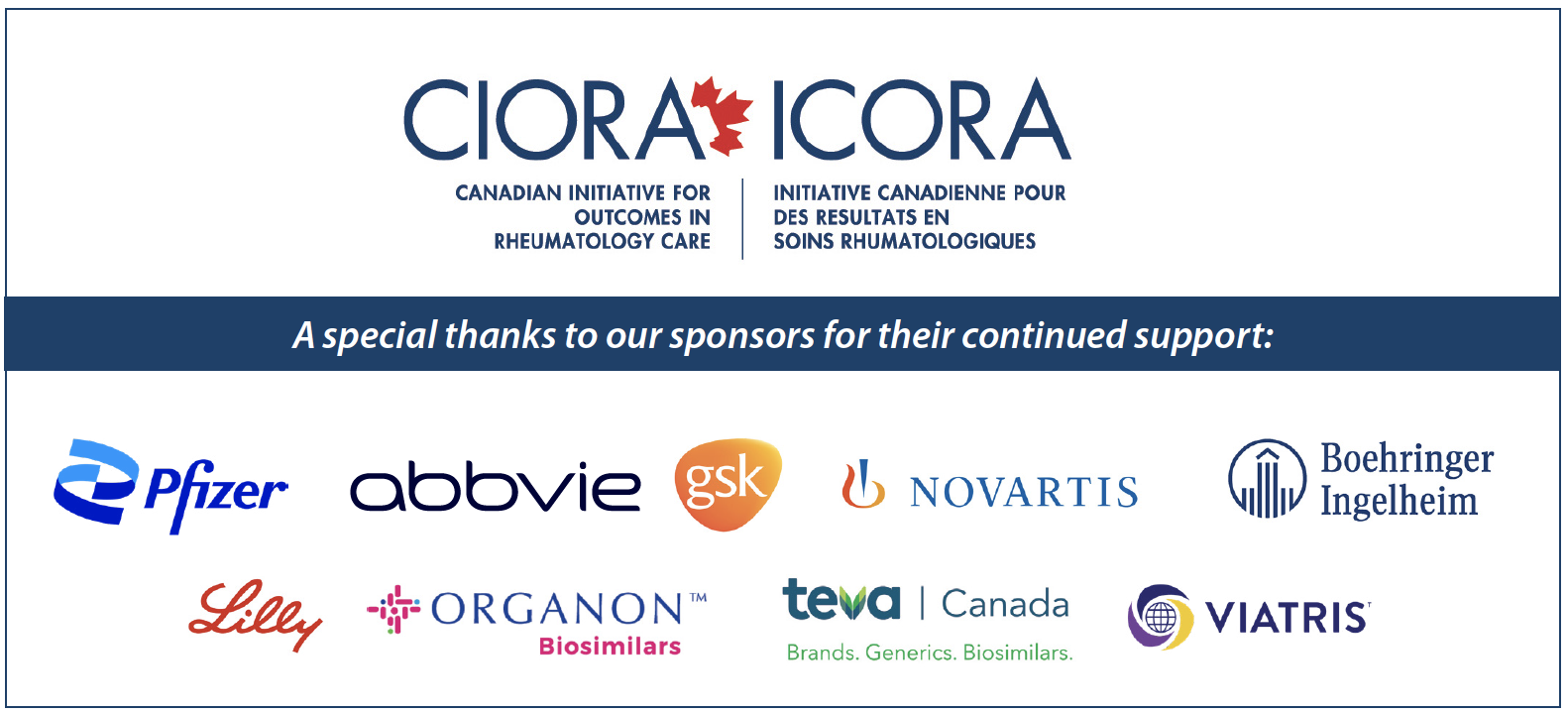 CIORA is issuing another call for grants in 2023!
CIORA Online Grant Application System opens

January 23, 2023.

Letter of Intent must be submitted by

February 20, 2023.

CIORA Online Grant Application submission deadline is

March 31, 2023.