Spring 2019 (Volume 29, Number 1)
The Ontario Best Practices Research Initiative (OBRI)
By Claire Bombardier, MD, FRCPC, Principal Investigator (OBRI); and Vandana Ahluwalia, MD, FRCPC, Investigator (OBRI)
Who We Are
The Ontario Best Practices Research Initiative (OBRI) (www.obri.ca) is a clinical cohort of rheumatoid arthritis (RA) patients in Ontario on whom data has been collected from routine care since 2008. This cohort also serves as an adaptable interdisciplinary collaborative data platform involving rheumatologists, researchers, and patients for current and future research questions.
Objective
Our objective is to collect observational data from usual clinical practice on the use, safety, effectiveness, and delivery of medications and health care processes for RA patients. In partnership with 71 rheumatologists (half community and half academic), 3,800 RA patients have been recruited from across Ontario. In addition to primary data collection at rheumatology practices, RA patients enrolled in the OBRI also consent to data linkage with a health care billing database at the Institute for Clinical Evaluative Sciences (ICES –www.ices.on.ca). OBRI-linked data allows comparisons between RA patients, the general population, and those with other inflammatory diseases (see Figure 1).
Impact
Since 2008, the OBRI has grown in size from 500 to 3,800 patients (+688%) and from 18 to 71 investigators (+294%). In the same time period, the OBRI has produced over 200 abstracts and 15 peer-reviewed publications supporting the effective care of RA patients. As a data platform, the OBRI has partnered with ICES administrative data (175,000 RA patients), and looks forward to future collaborations with other national and international cohorts to answer new, innovative research questions concerning RA patients in usual care.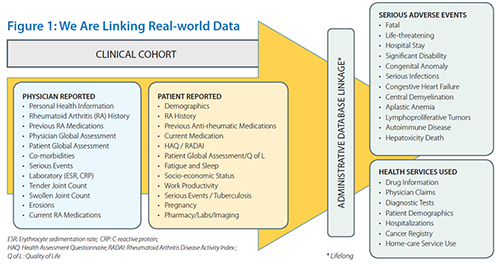 Claire Bombardier, MD, FRCPC
Professor of Medicine, University of Toronto
Senior Scientist, Toronto General Hospital Research Institute,
University Health Network
Rheumatologist, Mount Sinai Hospital,
Co-Chair, ECHO Rheumatology

Vandana Ahluwalia, MD, FRCPC
President, Canadian Rheumatology Association
Former Corporate Chief of Rheumatology,
William Osler Health System,
Brampton, Ontario